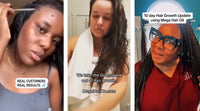 Welcome to Mega Hair Co.
Mega Hair Co.'s amazing collection of growth oils include 5 formulas: Original Formula, Extra Strength, Chebe, Rose and now Aloe Vera too! We get FAST and PROVEN results on ALL hair types!
Our Edge Honey Regrowth Serum is perfect for regrowing those edges and filling in bald spots. You'll love it on braids! IT KEEPS SELLING OUT! Add to Cart Now and Use Installments at Checkout!
Click to view the before and afters
Mega Hair Co. Customer Testimonials
Mega Hair Oil is wonderful! I and my daughter use it. I bought it for me but my daughter has been using it and said that it's making her edges come back. This Mega Hair Oil does exactly what it promises!

Mia H
OMG! What can I say about Mega Hair Co! The oil smells so lovely and even as a woman who wears braids all the time, this formula is helping me keep my edges tight. I highly recommend this oil!

Sharlrita D
I purchased Mega Hair Co. Growth Oil for my daughter's hair that was breaking and I definitely got the results I was seeking. Very fast growth and I highly recommend this product!

Adriane Z
I have purchased several hair oils in the past 12 months, however Mega Hair Oil has been the best so far. Please don't waste your time buying other products, try this oil for one month to get results.

Ros W.
When I tell you guys this hair oil is amazing! I've been using this since May. My 4c hair is thicker and longer. My scalp is healthy and never dry. I highly recommend Mega Hair Co. Massive Growth Serum!

Nyesha E.
My Locs LOVE this oil! The smell is intoxicating and the results are undeniable. My hair has grown inches in less than 3 months! It has restored fullness to my roots and even repaired areas of breakage!

Tammy S.
NEW PRODUCTS FRESH FROM THE MEGA HAIR CO. LAB!
5 Formulas: Original Strength, Extra Strength, ChÉbÉ, Rose and now Aloe Vera too! Try them all! We take the Guesswork out of hair growth.
Grab a Bottle of Hair Gummies or the detoxifying clay hair mask, our soothing Rosemary refresher mist is amazing too! Don't miss our moisturizing Beard Oil!
OUR FACE, SKIN AND BATH PRODUCTS ARE HERE! EXPLORE OUR LUXURIOUS FIZZY BATH BOMBS, OUR BATH BELLY BODY OIL AND OUR TURMERIC SOAP
OUR BOXED PRODUCTS ARE HERE and they're filled with stuff you'll love--AND HERE'S A SHOPPING HACK: BOXED products let you mix and match and save!
WE'VE GOT THOSE BONNETS YOU LIKE. THEY'RE PRETTY, COLORFUL AND STAY ON ALL NIGHT. GRAB OUR VERSATILE HAIR GROOMING TOOLS TO GET YOUR CURLS POPPIN' TOO!
CHECK OUT OUR COMFY MEGA HAIR CO. MERCH! REP THE BRAND AND TAG US IN YOUR GORGEOUS PHOTOS ON INSTAGRAM @SHOPMEGAHAIR