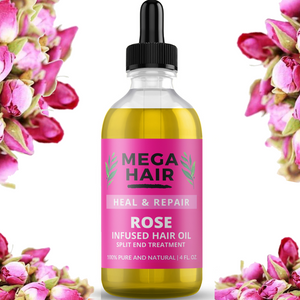 Our Rose Infused Oil is
 an emollient and has moisturizing properties and essential vitamins and nutrients that your hair will LOVE. Our Rose Infused Oil also helps strengthen your strands and help smooth over frayed ends and prevent breakage and split ends. 
 
This oil has a "light" rose fragrance.
Moisturizes hair

Infuses hair with nutrients

Provides smoother textured hair
Strengthens weak hair
Helps prevent breakage 
Add this split end treatment to your hair care routine today!
Mega Hair - Rose Oil
I can't wait to start using this oil....I'm looking forward to seeing the great results like the other oils.