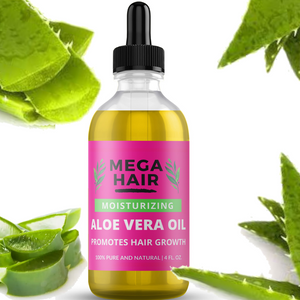 Our Aloe Vera Oil promotes healthy hair growth thanks to a special enzyme found in aloe called proteolytic enzymes. These enzymes effectively break down dead skin cells on the scalp that may clog hair follicles.
If hair follicles are blocked with excess sebum, dirt, or dead skin, they won't be able to grow properly. Aloe can also help cleanse the scalp so more nutrients can penetrate the hair follicle, helping hair grow faster and more efficiently. 
Customers See Results in as little as 7 Days!
It's time to PAMPER your hair like ROYALTY this year with Aloe Vera Oil. 
We are the PREMIUM oil brand that gets results:
✔️Makes thinning hair THICKER!
✔️Heals damaged hair and GROWS it LONGER!
✔️Nourishes the scalp and DECREASES shedding!
✔️Makes dry brittle hair SOFTER and SHINER!
✔️REGROWS edges and bald spots FAST!
✔️Chemo or Radiation regrowth--NO PROBLEM!
Our formula has an base of fresh aloe vera and grapeseed oil. These oils are 100% naturally extracted for massive hair growth. Want something stronger?  Try our Chebe Oil here.
Our Serum is lightweight, absorbs quickly, doesn't create build up and offers FAST LASTING RESULTS. Simply apply a minimum of 10-12 drops directly to the scalp or between braids or locs and massage gently. Our serum combats hair loss and is perfect for bald patches, thin edges and overall hair growth. This is a 4 ounce Bottle is a 2 Month Supply! 
Our oil is perfect for DAILY use on men, women and children. You can also use Mega Hair Massive Growth Serum for hot oil treatments and add it to your conditioner for a BOOSTED treatment.
Get Thicker, Stronger and more Luxurious Hair Today!
Love this product
OMG What can I say! The smell is so lovely and even as a Woman who wears braids all the time this formula is helping me keep my edges tight. I highly recommend.
Received package today with Oil/Soap today, 14/6/23.
Thank you 🇨🇦
Soothing & Effective
I thoroughly enjoyed the Aloe Vera formula. It is very soothing to my dry & itchy scalp.
Mega Hair Co. Aloe Vera oil
I have to say I'm loving this Aloe Vera growth oil. The smell is amazing I've using it since the day I received it. And will continue to do so 😉
Aloe Vera
The other products have worked so well for me so I am looking forward to using this.