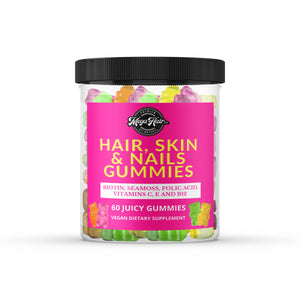 HAIR SKIN NAILS GUMMIES for EFFORTLESS HAIR GROWTH, NAIL GROWTH AND FLAWLESS SKIN! 💥💥💥
Our Newly Formulated Mega Hair Gummies are a Good Source of Nourishment for Hair, Skin and Nails too!
Customers are seeing Results FAST!
It's time to PAMPER your hair (and the rest of you) like ROYALTY this year with our BIOTIN + SEA MOSS GUMMIES.

Experts say, "Taking higher doses of biotin in supplement form can significantly benefit your hair, skin, and nails. This increase in love for biotin as a supplement has led to it being labeled "hair food" and rightly so since one of the effects seen most often is an increased rate of growth in the hair when taking it daily." 


Our GUMMIES gets FAST RELIABLE and PROVEN results:


✔️Faster Growing and Healthier Hair
✔️Stronger Hair and Less Breakage
✔️Hydrates the Scalp and Hair
✔️Restores Bald Spots and Thinning Edges
✔️Soothes itchy Scalp and Helps with Dandruff
✔️A Good Source of Nourishment for Hair, Skin and Nails
✔️Take 2 Gummies a Day--NO PROBLEM!


These Gummies are chock full of Vitamin E, Seamoss, Biotin and 92 Minerals that are Vital To Maintaining Healthy Hair. 
This 60 Count Bottle (Take 2 Gummies Daily) is a 1 Month Supply! 
Get Thicker, Stronger and more Luxurious Hair Today! 
The Perfect Solution for Strong and Healthy Hair
What I love most about these gummies is that they are not only effective, but they also taste great! They have a delicious berry flavor that makes taking them a delightful experience. I actually look forward to my daily dose of these gummies, which is a big plus for someone like me who often struggles to remember to take supplements.
After consistently taking Mega Hair Biotin and Seamoss Gummies for a few weeks, I started to see results. My hair feels stronger, shinier, and more resilient to breakage.
Another great thing about these gummies is that they are made with natural ingredients and are free from artificial colors or flavors. This gives me peace of mind, knowing that I'm providing my body with only the best and most natural ingredients.
Overall, Mega Hair Biotin and Seamoss Gummies have become an essential part of my daily routine. If you're looking to improve the health and appearance of your hair, I highly recommend giving these gummies a try. They are easy to take, taste delicious, and deliver outstanding results. Say hello to strong and luscious hair with Mega Hair Biotin and Seamoss Gummies!
Good Gummies
I love the gummies. Great taste. Will purchase again!
Great taste
At first I was worried about the taste since it's seamoss but I love them, just started taking them but I'm sure they'll do wonders for my skin and hair!
I love the new gummie
I recently purchased my second bottle of hair oil but this time I wanted to try the Biotin Gummies and I love them. They have a great taste and my hair is continuing to grow and be healthy. I would highly recommend using these products.